PASA: Throughout The Years was created to celebrate the history of CSUF PASA Kaibigan. Here you will find an ongoing collection of photos, video links, stories, and milestones from the 1980's to now taken from Chronicles/Kronicles, PCN program booklets, The Daily Titan, and PASA alumni. This is dedicated to all PASA alumni and current PASA members. Enjoy!
spring 2010
PCN Hero gets an attendance of 907 people. Over the summer, PASA goes on the annual Kayaking trip, has a beach social of TDB, and ended the summer with B.E.S.T
Fall 2010
During this semester, Social Chair Jody Cajudo begins the first Members' Retreat. The retreat was "designed for the PASA members to build trust & get to know each other on a different level". Kronicle Editor Celine Villanueva includes a character in the Kronicle named "Tita Linda" who becomes "Lola Linda" in the last Kronicle. Tita/Lola Linda had the heavy Filipino accent and had a recipe for a Filipino dish.
spring 2011
Lola's Kitchen has two showings and has an attendance of 1,001 attendees and a large cast of 20+. Alumni Liaison Jody Cajudo adds "Blast from the Past" to PASA general meetings to honor alumni.
fall 2011
For the first time in FG history, the Fg Co-Coordinators are two females, Jenny Rodil and Angela Valdez. It was also the first time of having a cultural half-time performance which was done by Likas. Twitter was utilized as a live feed for FG. 43 schools attended. CSULB Pac didn't come with an Anti-SPUF theme after 15 years. PASA is recognized four times in the Daily Titan. Two for FG, one as PASA being recognized as "one of the most noticeable club on campus", and the last one for marching in JFAV. 60+ people went on Norcal Trip not including 5 from CPP Barkada's board. PASA participated in the Breast Cancer Awareness Walk with the team name PASA loves Boobies and was coordinated by Crystal Rivera. President Celine Villanueva plans first Winter Formal.
spring 2012
PASA wins 4 awards in the first SCPASA PCN awards for PCN Engkanto: Best Actor (Marty Delgado), Best Actress (Stephanie Tumbaga), Supporting Actors (Celine Villanueva), and Best Comedic Scene (Russell Argenal). Michael Cuvin creates Mr. PI where proceeds went to SIPA (Search to Involve Pilipino Americans) to restore the Historic Filipinotown Mural. The first Mr. PI contestants were Adrian Galindo, Ted Shaw, Nico Saldivar, Mikey Salazar, Joshua Dela Cruz, Alex Torres, Eric Torres, Huy Dao, David Rucker, Andrew Licari, Matt De Leon, Chris Tju, and Bryan Makalintal. Michael Cuvin was also able to get CPP Barkada's Emeline Allenegui and UCLA Samahang's Stephanie Uy and Brittany Lopez to judge the event. Mr. PI was Eric Torres and People's Choice was Mikey Salazar. PASA also co-hosted a "Filipinos in Entertainment Media" Panel Discussion coordinated by Melissa Arce. The event was called "Creating Visibility, Establishing Individuality" and was sponsored by BakitWhy.com and FilAm TV. IP had one of the largest teams in history with 44 members.
fall 2012
Academic Chair Andrea Ampig set the AKA theme to Willie Wonka complete with the golden ticket. The cars that went to NorCal were called 4S1G, Gwen's Car, #lesbian, Lanks, MAFAKcar, SLS, TEAM GUAP, and CAR #1. PASA wins first place in the 27th Friendship Games! (The video of the Final Rampage PASA won is located in the FG Archives!) Family Games is reestablished with four teams: Siopao, QTPA2T, Tubig, and The Alliance (Whore, Hustler, Bootay). Family Games is held the whole academic year instead of one day and the winner is announced during Spring Banquet. With Spring Banquet, the theme was ugly Christmas Sweater. It was at that moment, Angelo Villaluz's famous sweater photo was taken.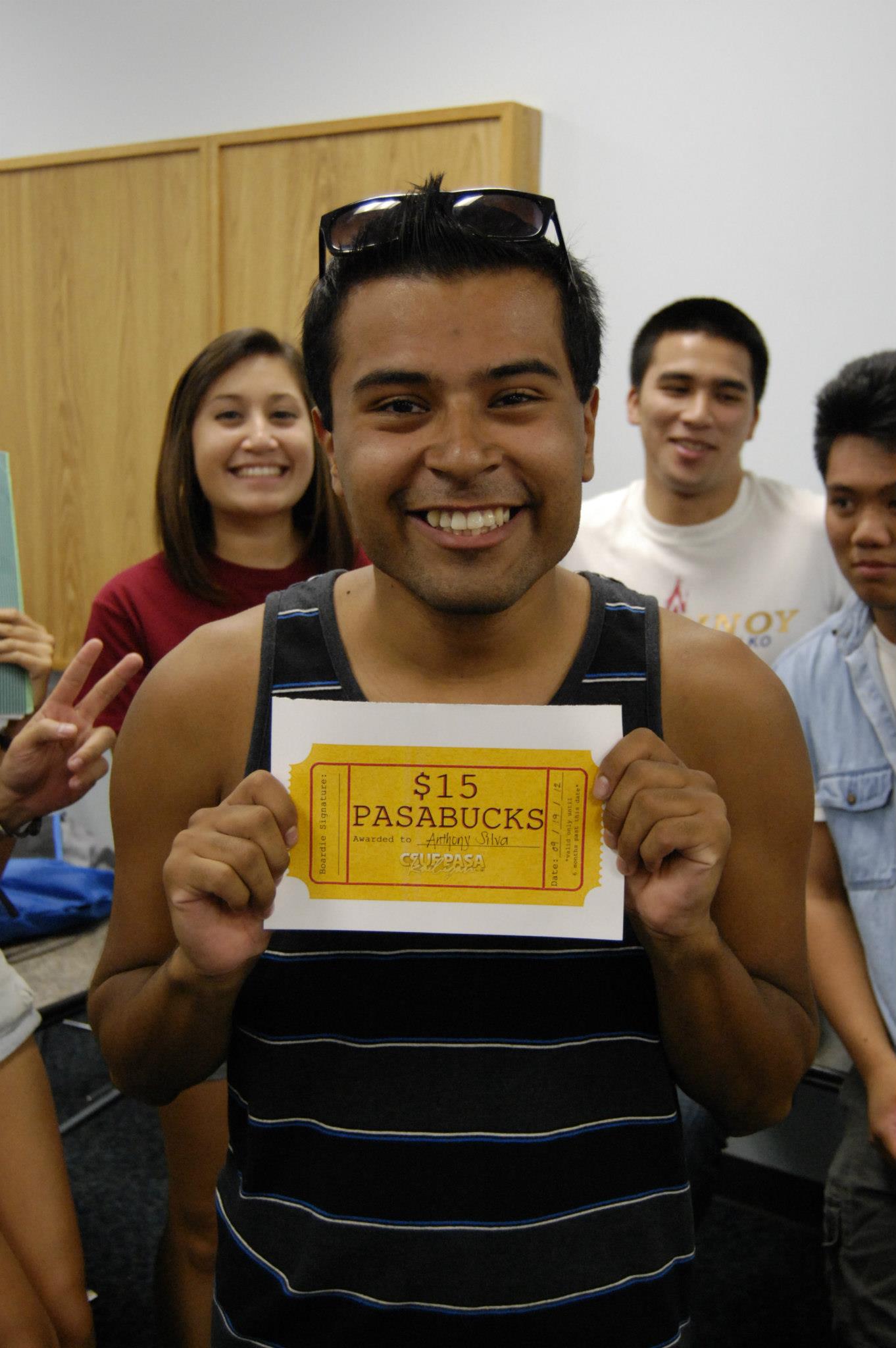 spring 2013
This semester's PCN The Mural (Directed by TK Gorgonia and dances coordinated by Abby Yarcia and Izzy Rosales) gets featured on Titan TV. During rehearsals on PCN dark day, a couple of the mountain suite male dancers purchase cheetah designed g-strings at the local store to provide a little more clothing under the bahag. The boys decide not to wear the g-string at the actual performance. It was this semester "Pie-A-Boardie" was created. Board also went all out dressing up for general meeting themes such as Disney and Hollywood. To celebrate PASA's 30th anniversary, board gave out slices of a birthday cake to everyone who attended that celebration general meeting. IP Captain Chris Tju succeeds in getting Spring Banquet to be called "Neon Pantsless Pirates" and many member dress up with no pants, pirate costumes, and neon colors. Will the theme come back? Only time will tell. Community Advocacy Cultural Chair Nathan Barrios coordinates the first Historic Filipinotown field trip to see the Filipinotown Mural. Due to rain, the trippers couldn't enter the park where the mural was but they had a good time especially during dinner at the LA Rose Cafe. Mr. PI was TJ Yarcia and People's Champ was Gabriel Gonzalez. All proceeds were donated to The Monacdenians of Southern California. Academic Chair Tony Silva sets the AKA theme to UP where ates, kuyas, and adings got grape soda pins and a balloon. Alumni Liaison Reinard Tesoro coordinates 1st PCN Preview Night bringing in PASA alumni Alfred Balagtas, Virgil Ross Bascos, Danny Pasquil, Annabel Rodabaugh, and John Tran. An exclusive 1988 FG video was shown (Check out the FG archives to see it!) and PCN photos from the 90s were displayed. PASA's Sportsfest flag football team Pogi Boiz gets into the playoffs for the first time. A candlelight vigil is held for Tiffany Burnoski to honor and commemorate PASA's newest angel. Orange ribbons were passed out and teal wristbands were sold where all proceeds went to the Burnoski family. IP would dedicate their last set for Tiffany. Siopao wins family games. Nathan Barrios incorporates "Culture Corner" into meetings.
Fall 2013
Social Chair Tawny Madrona coordinates summer break socials bringing PASA on a kayaking trip, Round 1 in The Puente Hills Mall, the OC Fair, and B.E.S.T. There was a recorded number of 191 members. Board took potential PASA members on "PASA Tours" which was a tour of PASA's frequently used spots on campus. Over 200 attendees attended the first general meeting (Get Lei'd By PASA) hosted by 2Gabez (Community Advocacy Cultural Chair Gabriel Gonzalez and Kronicle Editor Gabriel Balanza) and PASA board was incorporated in the IP set performing "Bubble Butt". SoCal Picnic moved from Acacia Park to Chapman Park. Academic Chair Camille Apin coordinates the PASA Outreach Program where students from Loara, Troy, and Walnut High School attended. Camille also sets the AKA theme to a concert theme where ates, kuyas, and adings got ticket stubs. Gabriel Gonzalez collabs with Tau Theta Pi's philanthropy chair, Alexandra Alvarez for Rev.Art.Lution where the entrance fee was canned goods and monetary donations that all went to the victims of Typhoon Haiyan. $816 was raised and donated to the Nation Alliance for Filipino Concerns and canned goods were sent to the Philippines through LBC. The FilHarmonic also performed at Rev.Art. Kronicle Editor Gabriel Balanza includes Easter Eggs and subliminal messages for members to find in every issue. He also sets up the Kronicle account on Issuu (www.issuu.com/kronicle.csufpasa). This semester on board, there were the 2Gabez and two TJs, alumni liaison TJ Orencia and IP financial director TJ Yarcia. Several PASA members (Gabriel Balanza, Aliza Libre, Carmi Aquino, Abby Aviles, and Kendrew Abueg) establish Delta Epsilon Iota - Alpha Alpha Delta Chapter: Honor Society for Career Development where they applied the experiences and what they've learned in PASA to help start up the honor society. By the end of this semester, kendamas became popular among members in PASA.
spring 2014
PASA once again had a recorded number of 191 PASA members. President, Tony Silva, was able to book IP to perform at a pre-game show for a Clipper's Game. Academic Chair Claire Imada's AKA theme was Pokemon. Ates, kuyas, and adings were paired up depending on who their pokemon was in their pokeball. Adings got the first form of a pokemon and the kuyas and ates got the evolved form of the pokemon. Board dressed up as Pokemon human characters. Mr PI got its first external contestants, Justin Dominguez from Cal Poly Barkada and Noah Aquino from UCR Katipunan. Mr PI was Jerico Lantacon and People's Champ was Paul Sobrepena. All proceeds went to Project Hope for Typhoon relief. Project Hope also donated shirts and hats for the winners and bracelets for everyone who attended. $469 was raised. There was a special shoutout video from Amerian Idol 2014 finalist Jeremy Rosado. Gabriel Balanza takes PASA members and their friends to Filipinotown Mural, the WWII Veterans Memorial, LA Rose Cafe, and the Griffith Observatory ending the night with Krispy Kreme donuts. Due to La Mirada having the play "Cats" during the time PASA usually has PCN, PCN Coordinator Nathan Barrios and PCN Dance Coordinator Nicole Aguinaldo decide to have PCN at Plummer Auditorium in Downtown Fullerton. Many earthquakes occurred during PCN Dark Day. The first big one happened during IP's performance and the second one made everyone in Plummer Auditorium evacuate. The Pre Show performer cancelled their appearance but Historian Celina Saludes saved the day by creating a slideshow the day before PCN. Ricca Sarmiento, Charlene de Castro, and Michael Cuvin conduct a tribute for Tiffany Burnoski during PCN. Volleyball team: Popped a Volley I'm Sweatin' makes the second round of playoffs at Sportsfest. P-Grad had the director of "The Debut", Gene Cajayon, to be the keynote speaker. Internal Vice President, Reinard Tesoro revamps the website making it what it is today. PASA member DJ Jorell Cacatian competes in ASI's Battle of the DJ's. Many PASA members come out to support him and he wins giving him the opportunity to DJ the beginning of Spring Concert where Wakka Flocka performed. Siopao wins Family Games again. Continuing the double names who have served on board such as Drea1 and Drea2, 2Gabez, and the two TJs, There were 2 Camilles, Treasurer Camille Apin and Sports Coordinator Camille Robes.
Fall 2014
During a park social over the summer, alumnus Ronald Allan Casino comes over and donates shirts, banner, and the 1990-1991 yearbook. The Ate Kuya Ading Revealing coordinated by Celina Saludes gets a total of 196 applications. The AKA theme was based off Finding Nemo where the ates, kuyas, and adings got snorkle goggles. President Reinard Tesoro creates a video tutorial series for games played at the 29th Annual Friendship Games. Due to the California drought, FG Coordinators Robby Abraham and Abby Aviles decide to remove the game Tidal Wave. IP Alumni from Fall 2012 - Spring 2013 come together forming "The Guardians" (started by Christian Martinez, Gabriella Mintzer, and Faith Sabio) and perform during FG half-time. Reggae band, Tribal Theory, also came out. The piano in Fireside that was asked for constantly by PASA member Joe Alog in Spring 2006 was removed one morning and would be last seen by PASA member Gabriel Balanza. During this semester, PASA became stage handlers for the Festival of Philippine Arts and Culture instead of helping out at the Youth Pavilion like in previous years. It was a very hot day in LA and members ended the day by getting some Halo Halo from Jollibee. Community Advocacy Cultural Chair Antonio Faustino coordinates Rev.Art. bringing in a magician, belly dancers, and Salsa Club. Members also reenact scenes from Pitch Perfect and President Reinard Tesoro performs Fantasmic!. Antonio was also able to have banquet admission be school supplies which were given to a school in the Philippines. Moving on with the double names, there were two Matts. IP Executive Director Matt Dela Cruz and Kronicle Editor Matt Martinez.