PASA: Throughout The Years was created to celebrate the history of CSUF PASA Kaibigan. Here you will find an ongoing collection of photos, video links, stories, and milestones from the 1980's to now taken from Chronicles/Kronicles, PCN program booklets, The Daily Titan, and PASA alumni. This is dedicated to all PASA alumni and current PASA members. Enjoy!
fall 1983
PASA is established by a group of friends led by Robert Litorjua and Eloine de Jesus. They started with 6 members with the hopes of getting Pilipino students to unite, to learn more about the Pilipino culture, and to gain representation on campus. (Annabelle Caberte & Esther Gatbonton,"History of the Kaibigans")
spring 1984
From 1983 - Spring 1984, PASA had 20 members where some were from Fullerton Junior College. In the end, About 80% of the members were from FJC. (Annabelle Caberte & Esther Gatbonton,"History of the Kaibigans")
1985 - 1986
A Junior College transfer student, Don Palpallatoc, would rise up and bring PASA to new heights. This would not be possible without the support and help of his friends Gigi Bandelian, Carol Dizon, Eileen Rogan, Bernadette Barrantes, Veronica Chan, Randy Sevilla, and Annabelle Caberte. During this time, Friendship Games was created under president Manny Gaudier and Sports Coordinator Don Palpallatoc. (Annabelle Caberte & Esther Gatbonton,"History of the Kaibigans") It started off as an internal event where CSUF organizations competed against each other and then FG began having external schools compete. The first external FG champions was Mt. Sac's Pilipino club Kasama. Today, Friendship Games is one of the biggest Filipino events in the nation. Also within this time frame, Les Ortiz and other board members coordinate PASA's first PCN.
1987
With PASA growing with successful events such as PCN and FG, the Multi-Cultural Council recognized PASA with the Most Inspirational Organization Award and the Most Promising Organization Award.
fall 1988
PASA won Friendship Games! Check out the 1988 video in the FG Archives!
1989
fall 1990
PASA members would call themselves The Kaibigans. The Kaibigans would compete in the 1990 Northridge Invitational Tournament at L.A. Valley College playing in Men's and Women's basketball and volleyball. At the first general meeting, over 90 people attended. The Kaibigans held a fall picnic for their members and they got to know each other through "Musical people, the balloon toss, and The Nasty." Friendship Games was held on October 13th where 18 SCPASA schools attended with an estimated 800 attendees. Games that were played that are no longer played were The Bermuda Triangle, The Nutcracker, and Rhythm Machine. PASA also held the Boo Bash Halloween Party. One of the biggest events PASA held this semester was the K Klub Fall Dance. 31 members helped set up the dance and over 450 people attended the dance. Canned goods were being accepted and PASA was able to donate 4 large bags of cans to the SIPA center in Los Angeles. PASA also participated in the 2nd annual Elephant Race where president Shar San Miguel and her elephant placed 4th. Over winter break, PASA held a field trip to San Luis Obispo where PASA and Cal Poly SLO's Filipino club hanged out with one another.
spring 1991
PASA participated in the Annual Asian Week where John Tran hosted a fashion show and was choreographed by Vilma Villaflor. PASA members showcased the fashion and styles of the Igorot, Muslim, and Maria Clara suite. They also performed "Binasuan" and "Tinikling". PASA showed up to Cal Poly Pomona's 2nd annual SportsFest playing volleyball, softball, tennis, and basketball. During this semester's PCN, "A Culture of Many Faiths", SCPASA would comment "That's a Fullerton PCN" because of the dedication and hard work shown on stage by PASA members.
A couple of PASA members would also start up Theta Delta Beta at CSUF in 1991.
1992
1993
spring 1994
Ronald Casino and a group of PASA friends would move their hangout spot from the pool tables in the TSU underground to a place on the other side of the TSU underground. They called it the "Downstairs" and that name would live on for over a decade. During that time, some members would call "Downstairs" the "Fire-side Lounge" or the "Piano Room" where ultimately it became known as "Fireside" today. PASA's home at CSUF was established.
Photo Credits: Ronald Allan Casino
Fall 1994
During Friendship Games, board member Emmanuel Coquia (commonly known now as Power 106's DJ E-Man) DJ'd along with Big Boy.
Photo Credits: Ronald Allan Casino
1995
Photo Credit: Matthew Thane
1996
spring 1997
fall 1998
Team Millenia is founded by Danny Batimana.
spring 1999
spring 2000
At Cal Poly's Sportsfest, PASA's alumni football team made it to the championship game and the freshman team was the first frosh team to make it to playoffs. At the end of the semester, some PASA members work together with the Asian Pacific American Resource Center to create P-Grad, the Pilipino graduation.
spring 2001
Downstairs/Fireside is almost lost. There were plans of making Fireside into a computer lab but PASA members lobbied against it during a formal meeting. Members shed tears because Fireside was home to them. Their argument was lost but the computer lab plan didn't follow through because of regulations. Fireside would live on for generations to come.
fall 2001
Kronicle Editor (it was known as Chronicle Editor at this time), Andrea Alonzo, made the Chronicle interesting with "Dear 'Drea Column". Members could ask Andrea for advice anonymously and her reply would show up in the Chronicle. Members also submitted poems and songs for the Chronicle. It was during this semester where Matt Geluz fell off the back of a Uhaul truck and became a favorite memory for many PASA members in the early 2000's. Having no cell phones or fancy laptops, many members killed time in Fireside by playing games such as Puso'y Dos, L.M.F, Blackjack, Black Magic, Click click Bang bang, and Mah Jong. The semester ended with a Sadie's banquet in the Pub.
spring 2002
During this semester, PASA went a snowboarding trip in February, watched the new Spiderman movie at Cerritos mall, got free ice cream at Baskin Robbins after PCN practice, and had a bonfire at Huntington Beach in May. Over the past years, meetings were held at TSU Gabriellino at 4pm. This semester, meetings were held at 3:30pm in Gabriellino and would be held at that time for many of years. At Sportsfest, PASA's girl's basketball team (Erin, Susan, Sara, Grace, Amy E., Aimee O., Audrey, Amber, and Nancy) placed 2nd and tennis doubles (Jensen & Tintin) placed 3rd place. The softball team had a lot of fun playing with a neon pink & blue bat, borrowed gloves, and blue shirts with paper numbers. Publicity chair, Dru Wu, started up a PASA website at pasacsuf.tripod.com. The website had pictures, articles, and even a chat room (The PASA website still lives but it is infested with pop-ups and probably viruses. Check it out at your own risk) Within this semester, Kronicle Editor Erika Estrella changes "Chronicle" back to "Kronicle".
Fall 2002
During the first general meeting held on September 11 in Pavilion C, a prayer was held at the beginning of the meeting in remembrance of the victims of 9/11. Also at 1st gen, Team Millenia performed. Over 100 people from PASA and different schools attended TM's first workshop and they practiced Under the Bridge (behind the Titan Bookstore) at 7pm. During this time, there was also the Dreas who were Andrea Alonzo (External Vice President) and Andrea Deguzman (Secretary). Members distinguished them as Drea1 and Drea2. Historian, Ryan F. Rosete, would also create the family known as the Sakit Family. The Sakit Family would ultimately be called "Siopao" so the family had a food name to compete with another family called The Hot Dog Family (now extinct). At general meetings, board would have a box called The "Shoe Box" and members could place their thoughts in the box whether it be feedback or submissions for the Kronicle. The "Shoe Box" didn't get many submissions and was renamed as The "Lonely Shoe Box" and was threatened to be replaced by the "Ugly Wood Suggestion Box". Speaking of Kronicle, the "Dear Drea Column" came back. At one point, Drea took a break and Dru Wu stepped in with "Dear Dru... Dru? What Happened to Drea??" giving advice from a guy's perspective. The popular NorCal Trip was known as the Frisco Trip during this time and PASA went to NorCal during the 2nd week of October. They were joined by De Anza College, Mission College, UC Santa Cruz, San Francisco State, San Jose State, and many more. One fun social event was the "Pajama Jammy Jam Kickback" held at PASA Advisor Matt Geluz's apartment. Members spent the night getting to know each other while watching movies such as "Shrek" and "Fight Club". Fall 2002 was also the time where the Ate Kuya Ading Program changed its after event from BJ's to Chuck E. Cheese (at the time, it was Diamond Bar's Chuck E. Cheese). Oh yeah and membership back then was $10 a semester and $15 for the whole year!
spring 2003
One fun event was the PASA-THETA-TM picnic where members of each group hanged out with each other at Arovista park with lots of food and pieing of board members. There was also a PCN Info/Hype Night where PCN Coordinator Randi Lopez showed his high school video of his rendition of Pandango sa Ilaw, Binasuan, and Tinikling. The night ended with watching 2001's PCN, Directions. A bowling tournament with a $150 cash prize for the winning team was hosted by PASA and TDB. Some of the AKA families that were there was the Hotdog Family, Cutie Patootie, AX, and the no name family. In the end of the tournament, it was the EventsCompany team that won the cash prize. PASA went into Sportsfest with a football team, 3 tennis doubles teams, a volleyball team, and a softball team consisting of board and one general member named Jamie. Formal was held at The Reef in Long Beach and those who went single were known as The Stag Party. The Stag Party watched X-Men 2 and carpooled together to The Reef. They danced together including the slow dances.
Fall 2003
Team Millenia becomes its own entity at this time but remained as the only competitive hip hop dance team at CSUF and still had strong support from PASA. Alumnus Ross Bascos invites PASA to perform at his wedding reception and PASA came through with Pandango Sa Ilaw and Tinikling. At the Chuck E. Cheese AKA after event, CPP Barkada joins PASA in the fun. Members tried to fit into the three horse carousel ride which they thought they were going to break it! On November 1st, Academic Chair Lyn Gutierrez organized a Thanksgiving Potluck dinner for all the ates, kuyas, and adings.
spring 2004
To fundraise for PCN, board provided a PCN jar where members donated their spare change to help fund PCN. PASA performs PCN: Pack It back at La Mirada Theater. At Sportsfest, the football and softball team made it to playoffs and Sports Coordinator Roman Castro ranked first for the playoffs. Before formals (it was called "Boogie Nights... PORN"), Kym Lim, Mark Hamanaka, and Manuel Irigoyen go to LA to buy centerpieces. Walking in the fashion district, there was a sus man approaching them. Out of nowhere, the man sucker punches Manuel knocking out the lens of his glasses. They later learn that this man was just randomly assaulting random people and two guys were out to chase after the man. Kym, Mark, and Manuel rushed out of the fashion district and Manuel's message for the members was "Don't ditch class, especially if you're going to LA.". PASA holds a spring break bonfire. Dru Wu creates the summer board games which unites all the Socal Filipino Clubs in SCPASA. Family Games is also created by Mike Adeva but was a one day event.
fall 2004
For the first time in PASA history, the fall 2004 board creates a script for the first general meeting which is still done today. The board members reenacted a day in high school with a pep rally and weird teachers with a main character named "Barrel Guy". PASA goes to the Chuck E. Cheese in Fullerton after AKA. Members went hardcore on karaoke at "Mike Night". On the NorCal Trip, someone connected people's eyebrows into a unibrow while they were sleeping. PASA held a Casino night at The Country's Country Club (Diamond Bar) and a Halloween PASA event at The Hop in Lakewood where there was a $200 costume contest. PASA also had movie nights where one time, PASA members watched "The Grudge" together and they agreed watching a scary movie together was a lot more fun when everyone watching is scared.
spring 2005
During the third general meeting, PASA veteran Brian Molina and 7 other alumni came out to speak about the highs and lows of the political and social life of the Philippines. PASA and CPP Barkada had a collab together for formal which was called "Moonlight Serenade". Team Millenia performs their last performance for PCN during Impressions.
fall 2005
At NorCal Trip, PASA ended the trip at CSU Hayward for a pool party/luau. PASA member Joe Alog sends constant requests to ASI for a new piano in Fireside.
spring 2006
Formal was held at The Reef in Long Beach where the theme was "Dancing in the Moonlight". Formal was DJ'd by 2 time PCN Coordinator Randi Lopez (DJ Kodak). During spring break, a bonfire was supposed to be held but it rained so a kickback was held at Steve Navarro's house. There was food, video games, music, and flamin' Dr. Peppers. Some of the unique superlative categories were Card Player, Trash Talker, Gamer, Best Dru Wu, Most Likely to Ditch, Dirtiest Mouth, Video Game Duo, and Most Likely to Place Gay Porn on Someone's Laptop. Joe Alog was successful in getting a new piano for Fireside.
fall 2006
Over the summer, Kaibigans went to Six Flags because most of their Disneyland annual passes expired and tennis was very popular that there were "Tennis Tuesdays" over the summer break. Norcal Trip expands to visiting the I-Hotel after Spring 2006's PCN The I-Hotel. FG is run by two coordinators for the first time. Theta Delta Beta builds the famous blue and orange FG letters. In the PCN article written by PCN Coordinator Matt Geluz in the November 8, 2006 Kronicle issue, Matt mentions that PASA "has spawned all kinds of leaders... Not to mention professional dance teams, Hollywood actors, established DJs, entrepreneurial cafe owners, and visionaires." In October, some PASA members in the Filipino American Experience class taught by professor Carol Ojeda-Kimbrough went to Historic Filipinotown for a 1 hour guided bus tour by the Filipino American Library. They went to go see the Filipino mural "Gintong Kasaysayan, Gintong Pamana" (A Glorious History, A Golden Legacy) but were unable to go inside the park because the gates were closed. Social Chair Eileen Soong establishes a new dance team for PASA. Suggested name was PASA-bly Hip and then TM Alumni Matt Geluz suggested "Infinite PASAbilties". IP was born.
spring 2007
PASA screens "Paraiso" and proceeds were donated to GK. "Lights, Camera, GK". American Idol Camile Velasco performs at this screening.
fall 2007
Over the summer, PASA had its Best End of Summer Thing (B.E.S.T; now known as Big End of Summer Thing) at Huntington Beach and were joined by CPP Barkada. For CSUF's 50th anniversary, a kickoff event was held. Emeline Yong, college of business' assistant dean of student affairs, invited PASA to perform. PASA accepted the invitation and performed Tinikling to kick-off the event. After the event, PASA headed out to Huntington Beach to hang out with CPP Barkada for another beach day. Icebreakers, The Nasty, and Tidal Wave were played that day. Academic Chair Joslyn Hernandez gets an idea from Jay-Roel Gomez and Kirstie Velante about the idea of having the AKA reveals to be by cell phone numbers since Ates, Kuyas, and Adings didn't have each other's phone numbers. IP gets its first official team with auditions. Places 2nd at So You Think You Can Dance Fullerton. IP performs at FG for the first time. (For more of IP's performances, check out the Infinite Pasabilities section in the archives)
spring 2008
"Kaibigan" is added to the club's title. IP performs at PCN for the first time.
Fall 2008
fall 2009
PASA becomes a Festival Builder of the Festival of Philippine Arts & Culture as coordinators of the Youth Pavilion teaming up with CSUF Alpha Phi Omega and FPAC volunteers. During FPAC, PASA had activities for the youth such as coloring books, making bracelets, and a mini hula-hoop contest. PASA also competed in the Tinikling Battle against UCR Katipunan and CPP Barkada. PASA was also asked to perform by the city of Stanton for their youth day in the Stanton Community Center. Members performed "Tinikling" and "Aray" led by Ian Saldivar and Cherry Mabutas. To promote academics, Academic Chair Alvin Reyes held study nights on Monday nights. It was during this semester, board created the famous FG tutorial video that currently has 700,000+ views (The video can be seen in the FG archives). Selyna Arciaga creates first SPUF (Spirit Pride Unity Friendship) Committee for FG. An FG pre-party was held at LEVEL 3 in Hollywood. AJ Rafael performs at FG! Theo Zuniga creates Rev.ART.lution where money raised went to Gawad Kalinga. Approximately $700 was raised. IP competes again in So You Think You Can Dance Fullerton and places 2nd. IP was a crowd favorite. Board also held the first board auction called "Win-A-Boardie" where some offered a trip to Disneyland, a personal photoshoot, and more. Board also held the first Dollar Dares. The Fall 2009 board also created official @csufpasa.com emails for PASA and IP board. At this point, "Downstairs" was commonly called "Fireside".
Spring 2009
PCN Love How You Do gets an attendance of 806 people and on a Good Friday. PASA Alumnus Danny Pasquil invites PASA alumni to gather at a CSUF basketball game. An alumni banquet is hosted in the Pub by Selyna Arciaga. IP performs for Clippers game halftime show at the Staple Center.
spring 2010
PCN Hero gets an attendance of 907 people. Over the summer, PASA goes on the annual Kayaking trip, has a beach social of TDB, and ended the summer with B.E.S.T
Fall 2010
During this semester, Social Chair Jody Cajudo begins the first Members' Retreat. The retreat was "designed for the PASA members to build trust & get to know each other on a different level". Kronicle Editor Celine Villanueva includes a character in the Kronicle named "Tita Linda" who becomes "Lola Linda" in the last Kronicle. Tita/Lola Linda had the heavy Filipino accent and had a recipe for a Filipino dish.
spring 2011
Lola's Kitchen has two showings and has an attendance of 1,001 attendees and a large cast of 20+. Alumni Liaison Jody Cajudo adds "Blast from the Past" to PASA general meetings to honor alumni.
fall 2011
For the first time in FG history, the Fg Co-Coordinators are two females, Jenny Rodil and Angela Valdez. It was also the first time of having a cultural half-time performance which was done by Likas. Twitter was utilized as a live feed for FG. 43 schools attended. CSULB Pac didn't come with an Anti-SPUF theme after 15 years. PASA is recognized four times in the Daily Titan. Two for FG, one as PASA being recognized as "one of the most noticeable club on campus", and the last one for marching in JFAV. 60+ people went on Norcal Trip not including 5 from CPP Barkada's board. PASA participated in the Breast Cancer Awareness Walk with the team name PASA loves Boobies and was coordinated by Crystal Rivera. President Celine Villanueva plans first Winter Formal.
spring 2012
PASA wins 4 awards in the first SCPASA PCN awards for PCN Engkanto: Best Actor (Marty Delgado), Best Actress (Stephanie Tumbaga), Supporting Actors (Celine Villanueva), and Best Comedic Scene (Russell Argenal). Michael Cuvin creates Mr. PI where proceeds went to SIPA (Search to Involve Pilipino Americans) to restore the Historic Filipinotown Mural. The first Mr. PI contestants were Adrian Galindo, Ted Shaw, Nico Saldivar, Mikey Salazar, Joshua Dela Cruz, Alex Torres, Eric Torres, Huy Dao, David Rucker, Andrew Licari, Matt De Leon, Chris Tju, and Bryan Makalintal. Michael Cuvin was also able to get CPP Barkada's Emeline Allenegui and UCLA Samahang's Stephanie Uy and Brittany Lopez to judge the event. Mr. PI was Eric Torres and People's Choice was Mikey Salazar. PASA also co-hosted a "Filipinos in Entertainment Media" Panel Discussion coordinated by Melissa Arce. The event was called "Creating Visibility, Establishing Individuality" and was sponsored by BakitWhy.com and FilAm TV. IP had one of the largest teams in history with 44 members.
fall 2012
Academic Chair Andrea Ampig set the AKA theme to Willie Wonka complete with the golden ticket. The cars that went to NorCal were called 4S1G, Gwen's Car, #lesbian, Lanks, MAFAKcar, SLS, TEAM GUAP, and CAR #1. PASA wins first place in the 27th Friendship Games! (The video of the Final Rampage PASA won is located in the FG Archives!) Family Games is reestablished with four teams: Siopao, QTPA2T, Tubig, and The Alliance (Whore, Hustler, Bootay). Family Games is held the whole academic year instead of one day and the winner is announced during Spring Banquet. With Spring Banquet, the theme was ugly Christmas Sweater. It was at that moment, Angelo Villaluz's famous sweater photo was taken.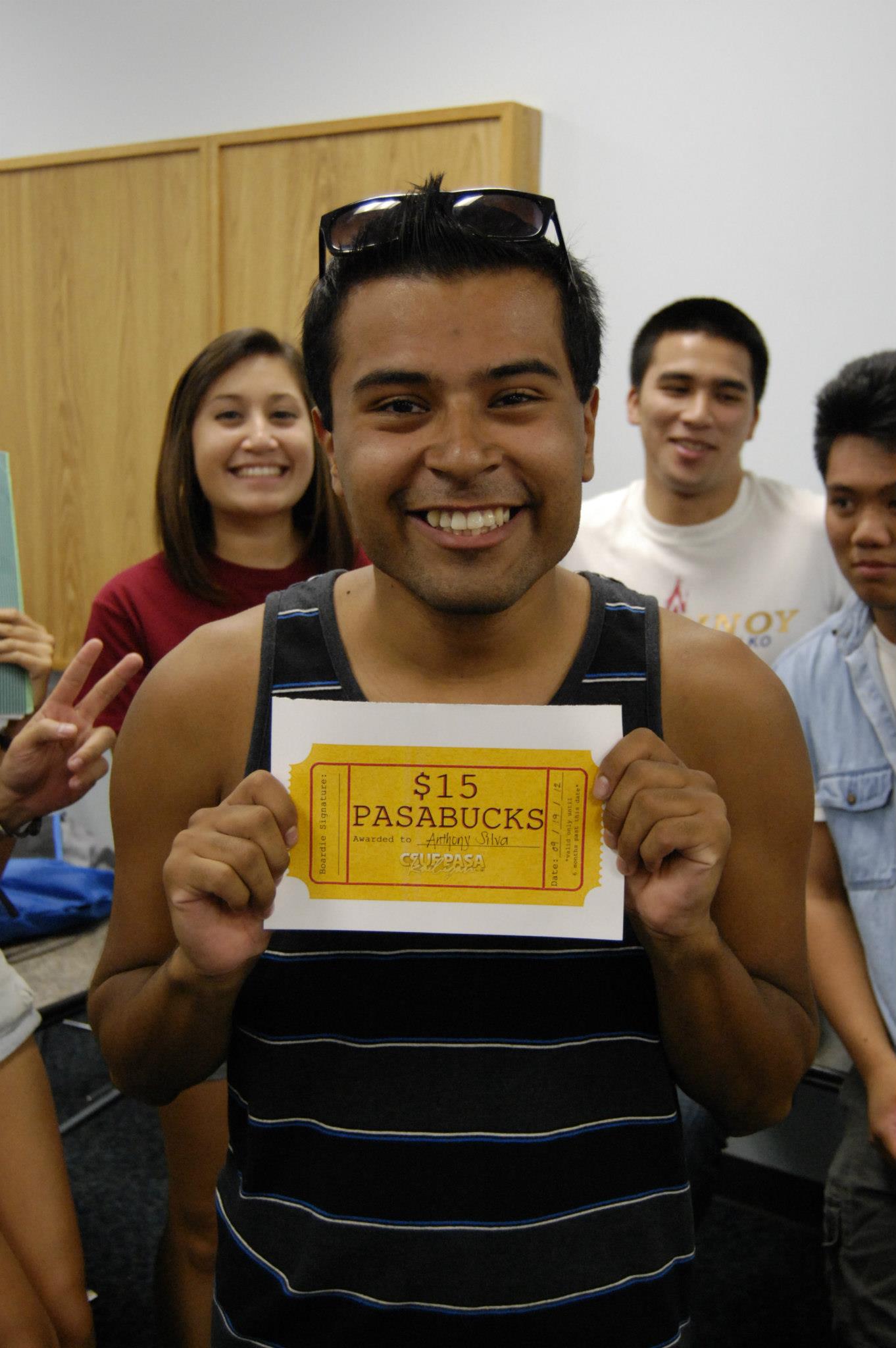 spring 2013
This semester's PCN The Mural (Directed by TK Gorgonia and dances coordinated by Abby Yarcia and Izzy Rosales) gets featured on Titan TV. During rehearsals on PCN dark day, a couple of the mountain suite male dancers purchase cheetah designed g-strings at the local store to provide a little more clothing under the bahag. The boys decide not to wear the g-string at the actual performance. It was this semester "Pie-A-Boardie" was created. Board also went all out dressing up for general meeting themes such as Disney and Hollywood. To celebrate PASA's 30th anniversary, board gave out slices of a birthday cake to everyone who attended that celebration general meeting. IP Captain Chris Tju succeeds in getting Spring Banquet to be called "Neon Pantsless Pirates" and many member dress up with no pants, pirate costumes, and neon colors. Will the theme come back? Only time will tell. Community Advocacy Cultural Chair Nathan Barrios coordinates the first Historic Filipinotown field trip to see the Filipinotown Mural. Due to rain, the trippers couldn't enter the park where the mural was but they had a good time especially during dinner at the LA Rose Cafe. Mr. PI was TJ Yarcia and People's Champ was Gabriel Gonzalez. All proceeds were donated to The Monacdenians of Southern California. Academic Chair Tony Silva sets the AKA theme to UP where ates, kuyas, and adings got grape soda pins and a balloon. Alumni Liaison Reinard Tesoro coordinates 1st PCN Preview Night bringing in PASA alumni Alfred Balagtas, Virgil Ross Bascos, Danny Pasquil, Annabel Rodabaugh, and John Tran. An exclusive 1988 FG video was shown (Check out the FG archives to see it!) and PCN photos from the 90s were displayed. PASA's Sportsfest flag football team Pogi Boiz gets into the playoffs for the first time. A candlelight vigil is held for Tiffany Burnoski to honor and commemorate PASA's newest angel. Orange ribbons were passed out and teal wristbands were sold where all proceeds went to the Burnoski family. IP would dedicate their last set for Tiffany. Siopao wins family games. Nathan Barrios incorporates "Culture Corner" into meetings.
Fall 2013
Social Chair Tawny Madrona coordinates summer break socials bringing PASA on a kayaking trip, Round 1 in The Puente Hills Mall, the OC Fair, and B.E.S.T. There was a recorded number of 191 members. Board took potential PASA members on "PASA Tours" which was a tour of PASA's frequently used spots on campus. Over 200 attendees attended the first general meeting (Get Lei'd By PASA) hosted by 2Gabez (Community Advocacy Cultural Chair Gabriel Gonzalez and Kronicle Editor Gabriel Balanza) and PASA board was incorporated in the IP set performing "Bubble Butt". SoCal Picnic moved from Acacia Park to Chapman Park. Academic Chair Camille Apin coordinates the PASA Outreach Program where students from Loara, Troy, and Walnut High School attended. Camille also sets the AKA theme to a concert theme where ates, kuyas, and adings got ticket stubs. Gabriel Gonzalez collabs with Tau Theta Pi's philanthropy chair, Alexandra Alvarez for Rev.Art.Lution where the entrance fee was canned goods and monetary donations that all went to the victims of Typhoon Haiyan. $816 was raised and donated to the Nation Alliance for Filipino Concerns and canned goods were sent to the Philippines through LBC. The FilHarmonic also performed at Rev.Art. Kronicle Editor Gabriel Balanza includes Easter Eggs and subliminal messages for members to find in every issue. He also sets up the Kronicle account on Issuu (www.issuu.com/kronicle.csufpasa). This semester on board, there were the 2Gabez and two TJs, alumni liaison TJ Orencia and IP financial director TJ Yarcia. Several PASA members (Gabriel Balanza, Aliza Libre, Carmi Aquino, Abby Aviles, and Kendrew Abueg) establish Delta Epsilon Iota - Alpha Alpha Delta Chapter: Honor Society for Career Development where they applied the experiences and what they've learned in PASA to help start up the honor society. By the end of this semester, kendamas became popular among members in PASA.
spring 2014
PASA once again had a recorded number of 191 PASA members. President, Tony Silva, was able to book IP to perform at a pre-game show for a Clipper's Game. Academic Chair Claire Imada's AKA theme was Pokemon. Ates, kuyas, and adings were paired up depending on who their pokemon was in their pokeball. Adings got the first form of a pokemon and the kuyas and ates got the evolved form of the pokemon. Board dressed up as Pokemon human characters. Mr PI got its first external contestants, Justin Dominguez from Cal Poly Barkada and Noah Aquino from UCR Katipunan. Mr PI was Jerico Lantacon and People's Champ was Paul Sobrepena. All proceeds went to Project Hope for Typhoon relief. Project Hope also donated shirts and hats for the winners and bracelets for everyone who attended. $469 was raised. There was a special shoutout video from Amerian Idol 2014 finalist Jeremy Rosado. Gabriel Balanza takes PASA members and their friends to Filipinotown Mural, the WWII Veterans Memorial, LA Rose Cafe, and the Griffith Observatory ending the night with Krispy Kreme donuts. Due to La Mirada having the play "Cats" during the time PASA usually has PCN, PCN Coordinator Nathan Barrios and PCN Dance Coordinator Nicole Aguinaldo decide to have PCN at Plummer Auditorium in Downtown Fullerton. Many earthquakes occurred during PCN Dark Day. The first big one happened during IP's performance and the second one made everyone in Plummer Auditorium evacuate. The Pre Show performer cancelled their appearance but Historian Celina Saludes saved the day by creating a slideshow the day before PCN. Ricca Sarmiento, Charlene de Castro, and Michael Cuvin conduct a tribute for Tiffany Burnoski during PCN. Volleyball team: Popped a Volley I'm Sweatin' makes the second round of playoffs at Sportsfest. P-Grad had the director of "The Debut", Gene Cajayon, to be the keynote speaker. Internal Vice President, Reinard Tesoro revamps the website making it what it is today. PASA member DJ Jorell Cacatian competes in ASI's Battle of the DJ's. Many PASA members come out to support him and he wins giving him the opportunity to DJ the beginning of Spring Concert where Wakka Flocka performed. Siopao wins Family Games again. Continuing the double names who have served on board such as Drea1 and Drea2, 2Gabez, and the two TJs, There were 2 Camilles, Treasurer Camille Apin and Sports Coordinator Camille Robes.